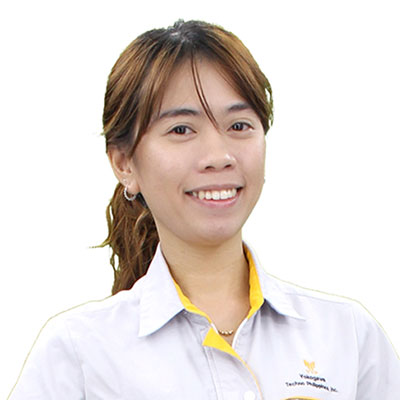 ---
Ma. Corazon Subardiaga
admin.yokogawa
Asst. Chief Engineer
Jupiter Design Group
Question 1: Please tell something about your job
My job specializes in detailing structures such as bridge girder, power slab; and as of today, tunnel segment. From drawing plan handed by the client, I create 3D model of the structure, thereafter produce 2D data and documents needed for manufacturing and erecting them. Usually aided by special software, work is mostly operated using CAD program.
Question 2: Why did you choose this company?
It's like hitting two birds with one stone; working under a Japanese company related to my field, civil engineering. As a fresh graduate and board passer back then , I tried my luck applying for any job position, even as a site engineer, just to land a job and have experience. Thanks to my friend, he knew me well enough that I like Japan (well basically because of Anime and songs), so he suggested me this company when he found job hiring posted online. YTP gave me an opportunity to be not just a part, but part of the start of a group which now is one among those dedicated structural detailing service provider in Japan. Working under this company, I was given a chance to go to Japan for training, which also allowed me to see my beloved sisters living there and enjoy the country at the same time.
Question 3: What are the challenge and fun for work?
Pressure in meeting deadlines under different changes in the project test my patience and focus in work. Handling new projects give a chance to discover new things which I am not aware of. And also I get to study and practice Japanese language I'm fond of since childhood. Step by step, to be able to communicate properly with our client in and outside work, sure is astonishing.
Question 4: How about work environment and workplace colleagues?
Since it's a Japanese company, we abide some of Japanese work customs so everyone can work effectively and efficiently. I think it's a great place far from other company.
Question 5: Please tell us your plans for the future.
I plan to hold a bigger and challenging job title. I want to have a greater opportunity to go back and forth to Japan for longer period. I am still single now but I wish to get marry, have my own family, while hopefully still working under this company. I believe my work will lead me to him, or probably I already did?
Question 6: What is the attraction different from other companies? (If you have experience of another company)
Before YTP, I experienced working at the site. I only spent two weeks there so I cannot really say the difference aside from the work environment. But seriously, I am really thankful that YTP gave me chance to work with them. I am entitled to a lot of benefits my previous company cannot offer.
---