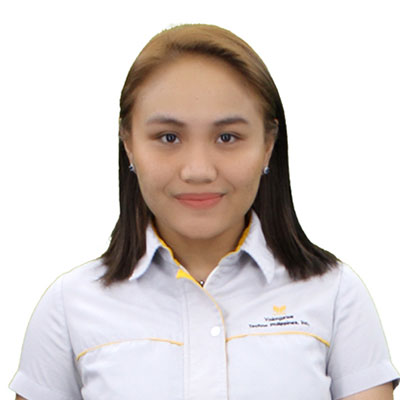 ---
Krizie Anne H. Sales
admin.yokogawa
Engineer - Structural Design
System Building Section
Question 1: Please tell something about your job
Our job in the company is mainly focused on designing steel structures that are constructed around Japan. Mostly, we design (low-rise to mid-rise) institutional and commercial building such as warehouses and manufacturing plants. Using our company's own-developed software for drawing and analysis such as IJCAD and SCAPY3D, respectively.
Question 2: Why did you choose this company?
Choosing your first job is not easy, a choice that will either make or break your career path. I came up with a decision to pursue a career in structural design in a company that can help me grow intellectually, but also in being a responsible employee. Since the Japanese are well-known for being responsible and hard-working, I chose to be in this company. In my nearly 2 years in the company, it does not just trained me to become a thorough structural designer but also honed me into becoming a better and a more responsible version of myself as an employee.
Question 3: What are the challenge and fun for work?
I work for a Japanese company, it is an advantage that I get to expand my language proficiency, being able to study Nihongo and later on become fluent in speaking their language. In this company, aside from the various challenges in our projects, another challenge is the communication. However, in spite the difference of culture and language, Filipino and Japanese have a thing in common, we both are very welcoming people. We do not mind making efforts to break down the barrier that separates the employees, which is the language. The company provides Nihongo classes and sometimes the company hosts dinner, sports activity and other parties so that employees can communicate better with the Japanese even outside work and get to know them better.
Question 4: How about work environment and workplace colleagues?
What is good in the company is that people here do not tend to bring each other down, we practice the ideology of a "support system". Through the years, the employees made the environment and workplace as light as possible. Every year, we make a bigger and happier family inside the company.
Question 5: Please tell us your plans for the future.
Our president told us that his vision for the company is to make all the employees versatile in all particularity that the company caters, and I would like to go hand-in-hand with his vision; I would like to acquire the knowledge and techniques in order to widen my horizon as a design engineer. With this pursuit, I see myself years from now working for the company who trained me and be able to share the knowledge that the company imparted me through the years.
---